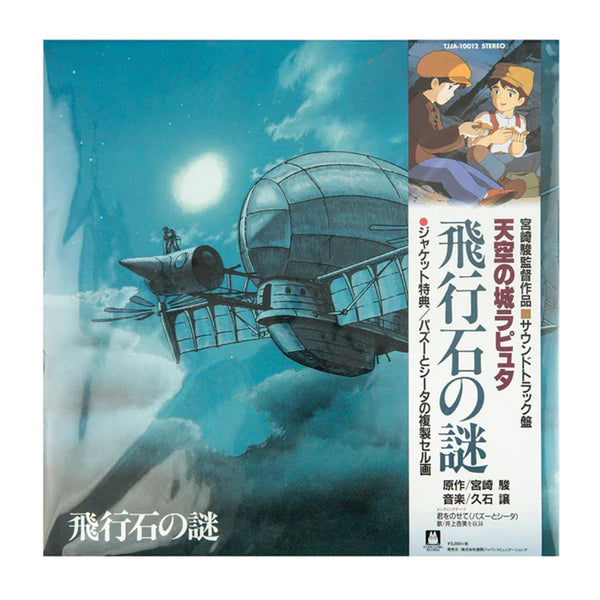 Studio Ghibli - Laputa - Soundtrack Album - Vinyl
---
---
Tokuma presents the soundtrack for "Castle In The Sky", the very first animation ever to come out of Studio Ghibli. 

Presented here in its first ever vinyl reissue, the music is entirely the same versions heard in the film, set to capture the imaginations of all who deeply know and love the film, while those who are unfamiliar, prepare to lose yourself in one of the very greatest Studio Ghibli universes to date. 
Gatefold sleeve features the Tiger Moth, the airship belonging to Dola, captain of the air pirates.
Includes a duplicate cel of Pazu and Sheeta. 
Side A: 
1. The Girl Who Fell from the Sky 
2. Morning in Slagg's Ravine 
3. Pleasant Brawl (~Pursuit) 
4. Memories of Gondoa 
5. Discouraged Pazu 
6. Robot Soldier (Resurrection ~ Rescue) 
7. Chorus: Carrying You 

Side B 
1. Sheeta's Decision 
2. On Board the Tiger Moth 
3. Signs Toward Ruin 
4. Moonlit Sea of Clouds 
5. Laputa: Castle in the Sky 
6. The Collapse of Laputa 
7. Carrying You
Size (cm): 31.5 x 31.5
Every purchase supports ACMI.
Share this Product
---
---
---